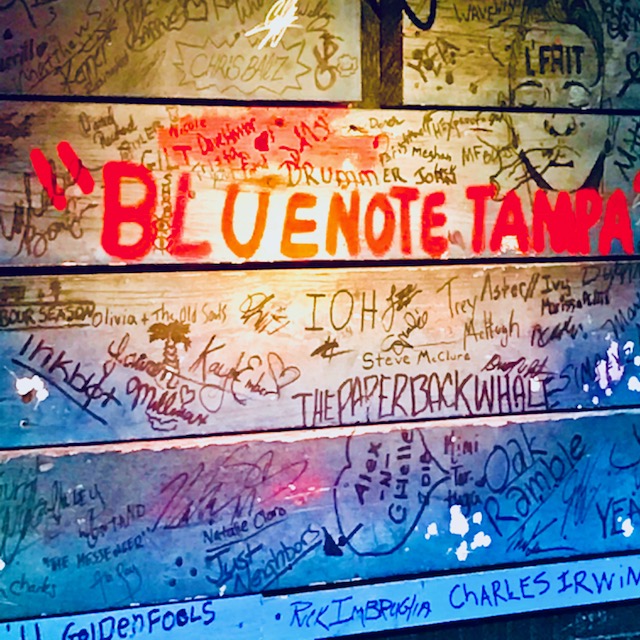 Have you ever walked into a place and said "THIS IS IT! I'VE FOUND MY PLACE"? That's exactly the feeling that I had upon walking into The Blue Note Tampa. Dan and I have been wandering around inconsolably ever since Yeoman's left Davis Islands. We like a place that's authentic, more grit than glamour. Well, that's exactly what The Blue Note serves up. The energy and the history hit you in the face when you walk in.
The night we went 3 bands were playing- and they started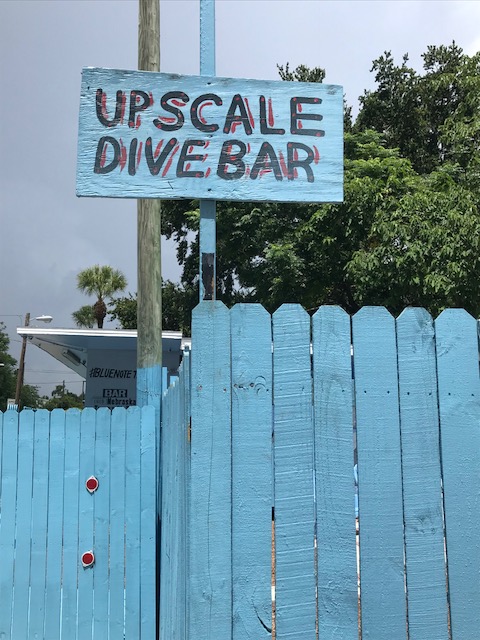 at 7pm! A real bonus for the over 30 set who have to get up early no matter the day. Ulysses served as the entrance ambassador welcoming everyone. Inside we found a mish/mash of chairs, a cool old bar, an excellent sound system, and an interesting crowd. The music was great. Danny and Alex kicked it off, followed by Infinite Eights and The New Schematics. We enjoyed each band, and bassist that I am, I was awe-struck by Sebastian Siaca's chops. Keep an eye out- this young guy (he barely looks old enough to drink!) is going to go far.
I so loved this place that I called the proprietor, Steve Prevatt, and asked if I could come interview him for this blog. Armed with Cubans from Michelle Faedo's On the Go (another blog-worthy destination), I met him at the Blue Note Tampa for lunch. Here's what I learned—
The Blue Note Tampa has been around since 1943 and was a popular destination on the Chittlin Circuit. It's been front and center of the birth of jazz, R&B, and the Twist, segregation, the decline of the central business district, and now its renaissance. Some of the old-timers report that Cannonball and Nate Adderly have played there, as well as BB King and others.
In Steve's family since the 1970's, Steve personally took over the keys in 2016 and re-opened the new, improved venue in October 2017. His vision is to return the venue to its roots where it can play an important role in the local music scene once again. Note that I said venue, and not bar. You see, The Blue Note Tampa is not open regular hours every day. Instead, it's open only for shows which may span metal, jazz and rock in any given week.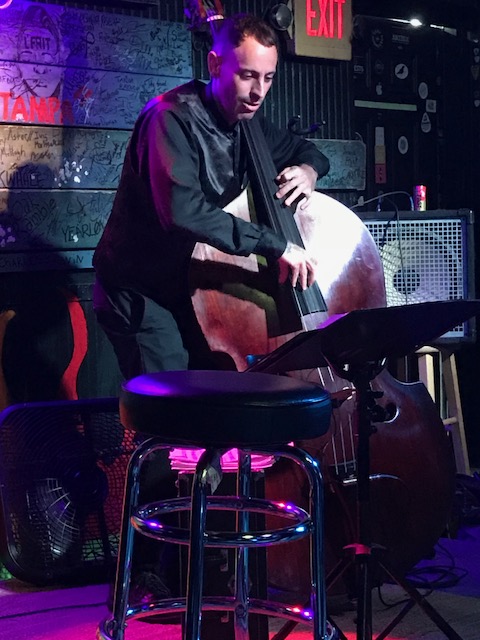 It's intentional that shows start early (thank you!), and in a showcase format. Each band is invited to play 35-50 minutes of original (yes, original!) music. The stage is designed for quick turns, accommodating 3 bands in one evening easily. Steve's also put thought and planning into the sound system. He's fully equipped to record and video bands, giving them a professional quality epk- all media content, stills, full master and release on his Blue Note channel within 3-4 days of the show.
So put this place on your list of must-trys. Check out their FB page to see upcoming shows. Be prepared to experience this admitted Upscale Dive Bar for yourself, and then tell me what you think. I'd love to hear from you.