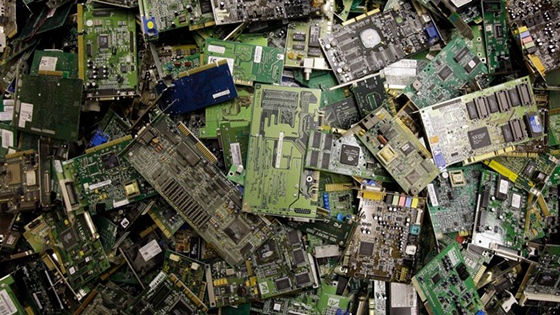 Did you know that November 15th is America Recycles Day? Although we have a ways to go when it comes to sustaining a healthy planet, recycling has taken big steps in 45 years. The recycling rate this year is 34%, up from 24% since 1990! Talk about improvement.
America Recycles Day is an extension of Keep America Beautiful and strives to create more awareness through events centered around the recycling. They also encourage people to take a pledge to learn, act and share with #berecycled. Currently, 75,741 people have made this pledge to keep on recycling.
Electronic devices are not always as easily recycled as our paper or plastic. It's important to give as much attention to electronic waste as it comprises about 70% of total toxic waste in the world.
Urban E Recycling, a locally owned Tampa business, specializes in responsibly recycling those hard to recycle items like computers, cell phones, video games, and VCRs.
Here are some quick facts about Urban E Recycling to encourage your recycling spirit on this national holiday.
TVs are replaced every 2 years, and computers every 3. That means about 35,000,000 tons of electronic waste is thrown out each year. Recycling 1 million laptops is equal to energy used in 36000 homes annually.

With just a phone call, Urban E Recycling will arrange a pick-up of your recyclable relics for free!

America disposes about $60 million worth of silver and gold jewelry when throwing away cell phones because our phone have those precious metals inside.

Each data device is wiped clean by an intelligent device that performs to Department of Defense and HIPAA standards. Urban E Recycling monitors the data destruction process 24 hours a day with security cameras. This ensures that confidential information is never in the wrong hands.

If you don't recycle, the e-waste you throw away ends up in landfills located in Asia and Africa. Remember that news story about the island of trash? More than likely your e-waste is contributing to that trash island.

Urban E Recycling is HIPPA compliant, EPA registered and obtains a certificate of DOD. Healthcare companies, law firms and software companies can all trust that their data will be safe with Urban E Recycling.

Tossing e-waste to landfills means these electronics will be buried or burned. Either way, the toxins in each electronic pollutes the air.

Urban E Recycling services the following areas: Tampa, Lakeland, Largo, St. Pete, Clearwater, Plant City, Valrico, Brandon, Sarasota, Bradenton and Orlando. No matter where you reside, you can recycle responsibly!

Only 12.5% of e-waste is currently recycled.

If your relics are not on their extensive list of recyclable items, Urban E Recycling will offer other recycling suggestions.
If you're in the thick of putting away your Halloween decorations and prepping for Thanksgiving, you might as well give your home or office a good cleaning. Give Urban E Recycling a try! You can contact them at 813.501.9346 or visit them at www.UrbanERecycling.com. You can find your nearest America Recycle Day week here. The closest event to our local area is in Orlando on November 10th. Find out more here.
You can take the recycle pledge here. So far, 55% pledge to recycle plastic bottles and caps, 38% pledge to recycle plastic bags, wraps and unwanted mail. 4% pledges to recycle shampoo bottles and 3% pledge to recycle mobile devices.