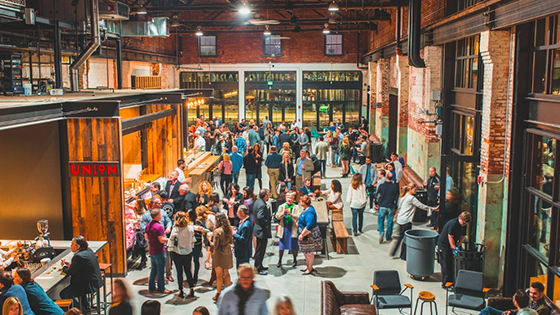 Last week we explored our top picks to getting some prime outdoor fun and sun in Tampa. This week, let's dive straight into the city's palette salivating highlights! We have delicious food halls, relaxing outdoor dining and Tampa gems that will more than likely give you a welcome food coma. Tampa is a food haven with plenty of options to satisfy any preference. See what makes Tampa a rising top destination for foodies in the U.S.! Let's get our grub on, shall we?
Food Halls
Food Halls are growing in popularity in the United States. Most of the state's top cities have one or three because they provide a variety of food and shopping options to consumers. They also make for great meeting spaces or gatherings for friends! A food hall comparably in this sense is a community hall for cities. Well Tampa boasts two food halls in the immediate city area. They are both a couple blocks from each other as well.
Picture by The Hall's social
The Hall, located on North Franklin may be smaller in stature, but rooted in gorgeous historic yellow brick and packs a punch of flavor to those taste buds. Not only is this hall's interiors gorgeous, but so are their food options. You can have your choice of a sammy, coffee, desserts, poke bowls, fish and chips and bento boxes all from local Tampa vendors. You can even top it off with a delicious cocktail from the bar where the bartenders are easy to talk to and always willing to concoct something new for you to try. You can catch freelancers, small business owners and students catching up on work at the many bar tops or comfy couches or find a family laughing at a nearby high top. No matter the reason why you come to The Hall, you'll always leave with a full stomach and smile.
Just a hop and skip over is the massive Armature Works, that is fashioned out of the old maintenance facility for Tampa Electric (TECO) streetcars. All brick and metal, this building not only boasts plenty of food options, but a small grocery, flower shop area, event space, courtyard, co-working space, test kitchen, retail and human-sized chess. One of Tampa Height's most popular areas to hangout these days, grab something to grub on and snag a chair facing the river for some prime views on the Riverwalk, UT and Ulele Restaurant traffic.
Outdoor Dining
So let's say that you went to The Hall or Armature Works for some fun day hangs and lunch, but where should you go now that dinner time is right around the corner? Thankfully we have some dining options with outdoor seating so you can still soak up the gorgeous weather.
Photo from Ulele social
Ulele pops up early on our list as it is located right next to Armature Works. Just walk along the Riverwalk for about 1 minute and you'll hit the yellow umbrellas and another beautiful brick building with delicious oysters, their own brews and historically themed menu items. The outdoor dining options overlook Ulele Springs or the River. Either option is truly picture worthy!
Moving from Tampa Heights into Seminole Heights sits Ella's. Ella's an eclectic atmosphere with a stiff drinks, mouth-watering food and live music. You can never have a bad time here! If you're here for dinner or brunch, it's always a guaranteed good time to sit on the deck in the cover of tall trees and tealights. This magical ambiance is a place almost straight out of New Orleans and plopped down in Tampa.
If you're in the mood to dress a little nicer, but not trying to go to Bern's, let's head over into Hyde Park to dine at On Swann. Literally located on Swann, this gem is part of the relatively new Hyde Park revitalization. The menu is more focused on smaller plates and coursed meals, which make it perfect for having a bite and catching up with your special someone while gazing out to people watch. Locally sourced with an open kitchen and eatery styled seating, this Hyde Park gem is your place for foie gras and fresh artisan breads.
Photo by Rick's on the River social
Rick's On The River is a true Tampa spot! This bar and grille is of course, on the water and serves some of the best oysters in town. Enjoy your day on the water then pull up to the slip and hop off for a beer and live music. If one bar is crowded, don't worry, there's three! With the sunshine and a cold beer, it's impossible not to have a wonderful time.
Photo by Mad Dogs and Englishmen social
If you're also looking for a cold one, but craving some English style grub, Mad Dog's is your new watering hole. Technically Mad Dogs and Englishmen, this pub is fashioned after London in the 60's. The best part of this place besides the live music, good drinks and inside/outside seating, is the food! Maybe more of a restaurant than a pub, I haven't had a bad plate at Mad Dog's. The variety is a page out of England with dishes like chicken tikka masala, rack of lamb and hanger steak. Located on Macdill, check out this cozy spot for dinner!
There are plenty of options for food, outdoor dining and exceptional dining experiences for any mood, event and craving in Tampa! These are just a few of the wide selection that popped right into our head when asked for recommendations. Whether you're settling down in the area or just on vacation, make sure to add these Tampa spots to your to-do list!