8 Reasons To Buy A Home In Dunedin, FL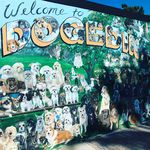 Dunedin is a small city that neighbors Clearwater and Palm Harbor. When Scottish families came to the area in 1852, they named the settlement after the Gaelic name of Edinburgh, Dùn Èideann. Today, the city provides a cozy and coastal small town feel for its visitors, with its lively main street, extravagant festivals and picturesque beaches. Cyclists can enjoy nature on the Pinellas Trail, a recreational area that connects Dunedin with the cities of St Petersburg and Tarpon Springs. Its an ideal place for walking, running, rollerblading, and other activities. The Trail connects people to the parks and urban areas of Pinellas County, making it a great way to explore. The Toronto Blue Jays have their Spring Training home games here from late February to early April. Read on for more reasons why Dunedin is an ideal place to settle down.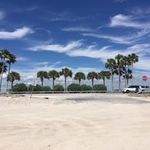 The Quality of the Beaches. Dunedin has some of the highest rated beaches in Florida, with white sands bordering crystalline waters. Dr. Stephen P. Letterman, known on his website as "Dr. Beach," rates beaches based on water temperature, sand softness, beach material, number of sunny days, etc. Out of the top 10 beaches he rated for 2019, Caladesi Island State Park in Dunedin was rated 7th out of all 650 public beaches in the US after reaching a top ten spot a few years back. Another beach, Honeymoon Island, does more than provide a setting for romantic moments, providing a wide variety of flora and fauna, nature trails, observation areas, and warm water to paddleboard, fish, snorkel, and swim.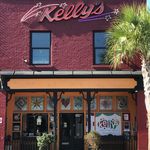 The Main Street. They don't call it "Main" for nothing! Dunedin's happenings revolve around this street, with its various boutiques, restaurants, and inns. The antique architecture of the buildings surrounding the street give the area a nostalgic, charming feel, making Main Street feel like reliving the early 1900s. Main Street provides an extensive and varying assortment of restaurants, such as finger-licking barbecue at the Dunedin Smokehouse, good old American cooking at the Living Room on Main, or sweet, heavenly (and somewhat guilty) pleasures at the Kookie Krums cookie shop. One of our personal favorites on Dunedin's main street is "Kelly's for Just About… Anything!" a quirky and convenient restaurant serving breakfast, lunch, and dinner to famished customers. Next door you'll find the groovy "Chick-a-Boom Room," with its nightclubs and party life. And don't forget Fido, as many Main Street establishments are pup friendly.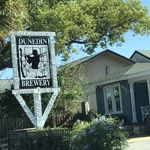 The Craft Beer. Dunedin is home to some of the finest brewing companies the Tampa Bay Area has to offer. One of the oldest breweries in Florida, the Dunedin Brewery, makes its home here. In addition to making quality brews, they seek to help contribute to the community and connect with their customers by providing excellent service. The brewery includes a pub with food, live music, and of course, their house beers. A newcomer to the Dunedin landscape, the Cueni Brewing Company is starting to make their mark by receiving positive reviews from several critics. One of their handcrafted beers, the Monkey Skull Porter, won bronze in the Best Florida Beer Competition. 7venth Sun Brewing offers an extensive and changing assortment of IPAs, Belgian-style beer, spirit barrel-aged beer, and other delicious drinks to choose from. Their bartenders are all Cicerone certified beer servers and they offer tours and beer schooling to teach the art of beer crafting.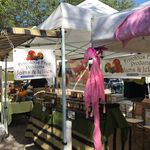 Festivals and Open Air Markets. Dunedin hosts several vibrant festivals, including the Annual Downtown Dunedin Craft Festival. The festival shows several artworks from around the country in the form of jewelry, ceramics and hair accessories, along with the extensive Green Market. The Annual Downtown Dunedin Art Festival is also held here, demonstrating the handiwork of some of America's most talented artists. Dunedin also includes a Downtown Market every Friday and Saturday from November to May that includes fresh produce and gourmet goods from several vendors, such as 20 Shekels and Conover Cutlery Service.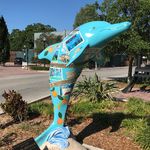 The Spring Training Games. Spring Training Games are held at the Florida Auto Exchange Stadium. Ever since 1977, the Toronto Blue Jays, who have won two consecutive World Series in 1992 and 1993, have trained at this stadium in Dunedin. There's nothing like spectating an exhilarating home game at the stadium, watching the Toronto Blue Jays take on any team. Spring training lasts from early February to early April, so make sure to look for the Toronto Blue Jays then!
The Pinellas Trail. Known fully as the Fred Marquis Pinellas Trail, it functions as both a recreational park and trail that loops around Pinellas County, spanning from St. Petersburg to Tarpon Springs. Created from an abandoned railroad corridor, the repurposed space makes it a wonderful place for cycling, walking, running, roller-blading, and just about everything else. The trail's greenspace provides a tranquil environment, with the areas distanced from bustling civilization, and nothing but the flora and fauna.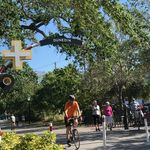 The Pinellas Trail makes connections to many other points of interest around the county, such as restaurants, coastal areas, other parks, etc. Additionally, the Pinellas Trail goes right through Dunedin, providing a convenient entry to the trail.
The Housing. The housing in the area is widely varied and versatile. For those who enjoy the captivating beauty of the sea, there are lovely options providing expansive waterfront views. Dunedin real estate also includes many stylish 50s homes, reflecting the mid-century retro-modern style. For those who seek more modern appointments, Dunedin offers a wide range of new developments to choose from.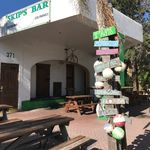 The Convenience. Dunedin has everything right at your fingertips! In addition to having fine dining and boutiques, entertainment and beaches, everyday amenities are numerous and convenient. The Westfield Countryside mall offers all kinds of stores from Dillards and Macy's, to Nordstrom Rack, Brookstone, Build a Bear, and even a Whole Foods Market.
Owning a home in Dunedin does not mean losing the convenience of owning a home in Tampa. If you are considering Dunedin in your search for Tampa real estate, contact me today to set up a showing!